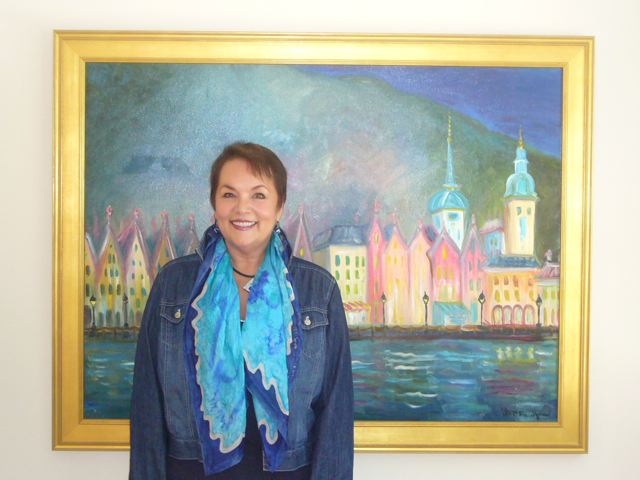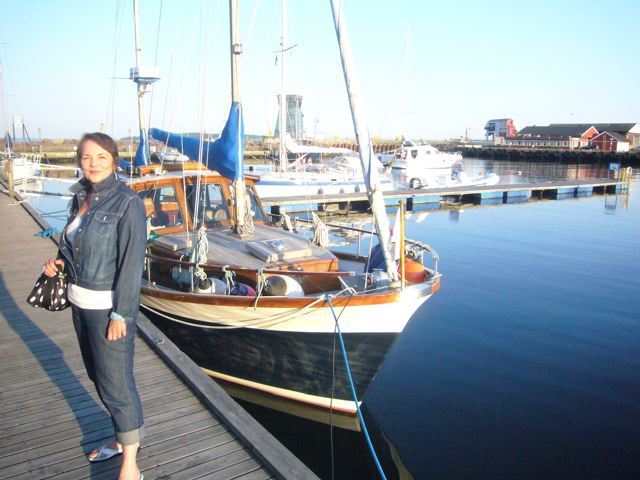 Bonnie Jeanne (B.J.) Faulkner has been a professional artist for the past 30 years. Primarily self-taught, her artistic talent was identified early in life when she was selected to attend Saturday morning art classes at the Toledo Museum of Art, Toledo, Ohio. She began exhibiting in regional shows, which led her to establishing her own gallery. Also a singer, her career as a vocalist is a strong influence on her art.
In 1969 Faulkner attended a solo exhibit of Matisse's huge canvases at the Grand Palais in Paris, France. The experience left an indelible impression on Faulkner whose style is reminiscent of Duffy and Matisse. Her art evokes a sense of elegance through her charming and colorful interpretations of the world's most loved and traveled cities and villages. Faulkner's style has evolved from the Fauvre tradition, where color is supreme. With an extraordinary use of color and expressive lines she creates works that appear to dance on and off the canvas, she "sings with paint."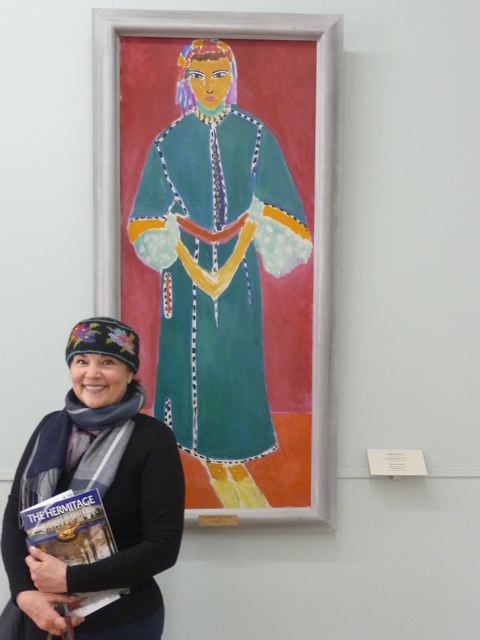 In 1996 Faulkner was comissioned by the Boston Symphony Orchestra to design the Tanglewood music festival poster. That same year she established her gallery, the B.J. Faulkner Gallery in Lenox, Mass. Also an illustrator Faulkner's work has appeared on a range of products from note cards to children's books for Prentice-Hall. In 1997 her depiction of Kinzi Park was showcased throughout Chicago, appearing on flags, an architectural mural and on promotional materials. Faulkners' exhibit at Art Expo 1999 at the Jacob Javitz Center in New York City secured her a one-woman show of her musical and theatrical works at the Gallery at Lincoln Center in New York City.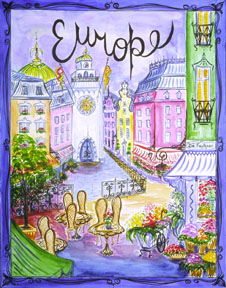 In 2005 Faulkner was commissioned by United Airlines to create their signature European destination poster. The poster is hanging in airports throughout the world. Faulkner's illustration work has been showcased in the Serbin Communications - Directory of Illustration issue #13, #16, #18 and #21.
In 2007 Faulkner was honored to receive a Lifetime Achievement Award for her artistic talent from her alma mater Maumee Valley Country Day School in Toledo, Ohio. She has participated in numerous shows and fund-raising events throughout her career, including her top-selling participation in the Wilton Newcomers 3rd Annual Spring Art Auction, Wilton, Conn., along with Bruce Museum in Greenwich, Conn., a one-woman show at the Carriage Barn at Waveny Park, New Canaan, Conn., the Fairfield Country Junior League show in Southport, Conn., and her notable contribution to Brushes for Books to benefit the Lenox Library in Lenox, Mass.